Instagram presents plentiful opportunities for real estate marketing. With 1.2 billion global users, Instagram focused on photos and videos instead of text from the start. That format favors selling real estate, but not everyone is leveraging the platform to the best of its ability. Make the most of your Instagram social advertising with some techniques specific to marketing real estate business.
Why use Instagram for Real Estate marketing?
Not sure if Instagram is the right social network for your real estate marketing? You want to use a natural platform for you and one used by your target market. The average Instagram user spends 53 minutes a day on the platform. That's nearly an entire hour of their day spent scrolling, making posts, and exploring the social network.
In terms of user profiles, 25-34-year-olds represent the largest advertising audience, followed by 18-24-year-olds. This is right in the real estate client sweet spot, as it covers millennials, the generation driving current and future real estate activity. The market represents numerous first and second-time homebuyers. Additionally, around 40% of Instagram users have high levels of disposable income.
But the real reason Instagram is an opportunity for you is only 14% of real estate agents are using Instagram.
Talk about a leg up on your competition!
Instagram is designed as a visual-forward social network. We know that people are highly visual. Over 80% of home buyers reported wanting pictures of their properties online. Why wouldn't you put your real estate listings here?
According to one source, your ad return on Instagram is 2.8 times higher than any other marketing platform.
Put all these pieces together, and why wouldn't you want to use Instagram for your real estate marketing?
How to do real estate marketing on Instagram
Strategize for Instagram social marketing on the platform based on your goal and how you'd like to use the network. Use Instagram to build brand awareness, create a community, generate leads, and market your listings.
Let's start with some general advice that applies to all real estate professionals.
Tips for Instagram hashtags
Instagram uses hashtags to make posts more discoverable and help create communities. If you want to be found by more people, you've got to use the right hashtags for your post. Gain 12.6% more engagement by adding just ONE hashtag compared to those with zero hashtags.
Don't always copy and paste your hashtags. It's fine to reuse some standard and branded hashtags, but do personalize the ones you choose for each post.
Different tools will give ideas on what hashtags are popular and could work for you.
Here are a few commonly used ones for real estate:
#realestate
#luxuryrealestate
#homeforsale
#makememove
#househunting
#mansion
#yourbrokerage
#yourtownhomesforsale
#investmentproperty
#curbappeal
#openhouse
#emptynest
Optimizing your copy
While people go to Instagram to look at the posts, do not neglect the copy side. Keep any ad copy short and direct. Tell the person viewing it what it is they're getting before they have to click through.
For instance, when creating an ad for a property, go ahead and give them information on the price, square footage, location, bedrooms and bathrooms, and other key information right there in the ad. Save them your time and theirs.
Follow People
Don't operate your Instagram in a bubble. Find and follow on Instagram your past clients, current and potential clients, business owners, and community influencers.
You need to engage, comment, and follow different kinds of people to grow your real estate Instagram account.
Now that we've covered what all real estate professionals can do let's look at strategies for specific marketing goals in real estate.
Tips for marketing Properties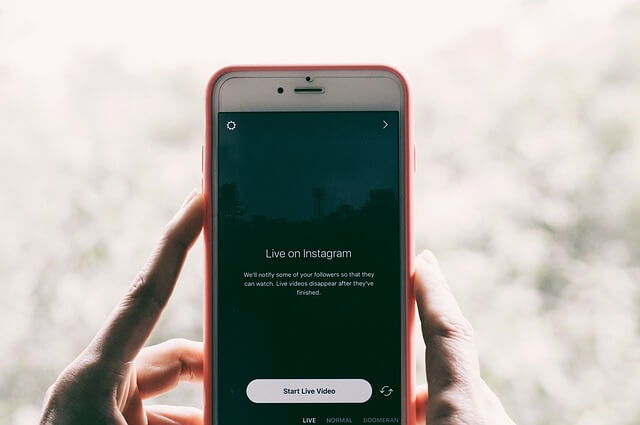 Convert to an Instagram business profile
A common mistake real estate agents make operating their Instagram as a personal account. While we know many real estate professionals are sole proprietors. They are leveraging their relationships to grow their business; not converting to a business profile prevents you from taking advantage of Instagram's advertising options. You can run ads for your business and see the analytics that tells you how your advertising works. A business profile also enables you to optimize your profile better to attract new leads. Setting up a business account is free.
Post Video
Instagram's video option times out at 60 seconds. While this is not as long as you'd probably like, you still need to use video tours on the social network. Social media posts with video have more views than just a static image, especially on Instagram, where videos get the most engagement. Since you're a home selling expert, you know the more eyeballs you have, the better.
Video marketing is more than home tours. Use Instagram Stories to create a recap in your feed. Add 360-degree videos. Post casual advice or commentary videos, such as trends that you are seeing from home buyers. Do a live video showing people what you like about a particular house. Create educational content, such as answering questions about contract clauses or the buying process.
Use the carousel ad
Instagram's carousel ad format marries function with an attractive design ideal for real estate marketing. Display several images in a catalog style so your audience can scroll through to see multiple rooms and properties.
But you can do more to make the carousel engagement. Rather than always showing a few pictures spread across a property, pick a theme. Use the ad format to highlight the home's best features, like its renovated kitchen or its stunning backyard. Use the carousel to highlight features across multiple homes, like beautiful entryways from several different listings.
Lead with the lifestyle
Keep this in mind as you post on Instagram. It's not the house; it's the lifestyle it promises. Whenever you make a post, even for a listing, lead with the lifestyle shot.
Using the front of the home to highlight its curb appeal can be fine, but it's a very standard shot and doesn't always reflect the home's best feature. Wouldn't it be better if your potential buyer could imagine themselves grilling in the outdoor kitchen? Or what if they were relaxing in the spa-like luxurious bathroom?
Tackling new construction
How do you market a home that doesn't exist yet? Besides using the developer's renderings, include a floor plan. It will help the potential buyer see how the rooms flow together. Adding a floor plan increases their interest and makes them want to contact you to learn more.
Amenities, amenities, amenities
As you move through taking photos and writing Instagram copy, play up the amenities. It goes back to leading with the lifestyle. If you want a prospect to click through to the property page, win them over with a sampling of what the house has. Don't make them go searching for the details. It wastes your time and theirs.
Marketing yourself as a real estate professional
Instagram is great for building a personal connection with your audience. Apply these tips to improve how you are using the social network to grow your brand.
Define your brand
When someone visits your Instagram feed or story, they should know instantly it's yours. Make your Instagram align with your branding strategy visually and in copy tone.
Some real estate professionals achieve this by designating a specific filter or color scheme across photography. Others apply the same branding elements or layout across their posts. Some real estate agents pick a specific voice or a theme, like comical posts or adding tips for families. Use your branding guidelines to create a unified theme to help your Instagram marketing.
Instagram Stories
Use Instagram stories to get people to tune in to what you're doing at the moment. Stories are great because they come and go. People have a strong fear of missing out; Stories plays that up by encouraging them to click on your story right now to see what's happening before it's gone.
Use Instagram Stories to do a tip of the day. Try to highlight something you like in the community or a specific area. Build a relationship with your audience, showing them some of the hobbies and the things you enjoy doing.
You could also do a "where am I today?" Instagram Story showing your audience the different tasks involved with being a real estate agent.
Think "Build Community"
The thing about digital marketing is you can't be pushing all the time. You must do something to build genuine connections with people.
In your Instagram posts, think of ways to build this community. It could involve you posting on other people's Instagram feeds. Perhaps it means featuring a neighborhood business. Maybe you're involved in a community event, and you want to invite others to participate. Find ways to connect the online community to the real world.
Focus on Video
Again, video social media posts have more engagement than just static images. So mix up your Instagram feed by including some short and fun videos that will engage your audience.
Attractive Photography
Remember, Instagram is a visual-forward platform. Your best asset is attractive and well-shot photography. For photos from your phone, make sure the lens is clean, and the shot is well-framed. Pay attention to your surroundings and the lighting. If your real estate photographer happens to take an exceptional shot, show it off. It's fine to have graphics, such as small infographics, or to do some tips, as long as they are well-designed and in line with your branding.
Testimonials
Social proof is so key to how you win business in today's digital environment. We know it's not natural to toot your own horn. But if someone gives you a glowing review, why not show it off on Instagram? Give the reviewer a shout-out with a thank you for the praise.
Local Targetting
Take advantage of Instagram's advertising analytics to use local targeting to reach buyers and sellers. Remember, most homebuyers don't move very far from their prior home. You could generate a lot of business just by focusing on developing relationships in the area.
Marketing Real Estate services
Are you a home stager, renovator, or a fix-and-flip investor? Many of the marketing tips above apply to your business, but there's an additional posting tip that can gain some attention for you.
Do some before and after photos showing how your work really makes a difference. People gravitate towards before and after photos. Not only are these shots evidence of your excellent work, but they'll get boosted engagement.
Instagram marketing tips for real estate agents
Take these techniques and use them to improve the results of your Instagram marketing strategy. We look forward to hearing from you about how these tricks for Instagram improved your engagement and lead generation.
Thumbnail designed by Freepik.com